Masters in Germany Consultants
What is Migr8 all about?
Migr8 is an educational consultancy with the motive to reduce the challenges faced by international students in their Global education. Our mission is to construct an affordable and trustworthy education platform to inspire students and help them achieve their International Career goals. Migr8 takes pride in providing expert consultation and educational placement advice to students who want to study masters in Germany, Canada, Australia, the UK, and the USA.
Services offered by Migr8 for Masters in Germany
Destination selection

Course short-listing 

University selection

Application processing

Visa filing support

Post landing and Accommodation support

Avail scholarships and much more.
Study Masters in Germany
Renowned as the world's most popular non-anglophone study destination, Germany welcomes over 300050 students from different countries across the globe offering various masters in Germany.
With a globally reputed curriculum with 20000 courses and meager tuition fees, the country has proved to be a perfect overseas destination after Canada, the UK, and the USA. The number of Indian aspirants in Germany almost doubled within 6 to 7 years. India is Germany's second most significant center of international students, preceded by China.
Germany is highly cooperative with international students and offers substantial financial aid to students who want to study for a masters in Germany. Over 260000 students per annum attend Germany for studies.

Almost every public university tuition fee for a masters in Germany is nil or very nominal. For the masters degree ranking, Germany stands 3rd in the world after the USA & UK. A student who wishes to pursue masters in Germany has to select between technical universities and universities of applied Science. So the masters in Germany is the best option for all students who have talent but lack funds. Almost all the organizations listed in Forbes magazine have offices in Germany, and many are headquartered in Germany. Universities cooperate with the industry for job placements in global giants such as Mercedes, Volkswagen, BMW, etc.
Students can quickly go for a job search visa after completing their masters in Germany. After getting a job, they can work for 3-4 years in the relevant field of study. After this, students are eligible to apply for permanent residency in Germany. To have a successful career, one must have a masters degree. So to get admission to a masters in Germany at a good University with zero tuition fees, one must have proper skills and knowledge. We, the Migr8 Germany consultants in Delhi, will help you Focus on your preferences and map your need for study options at the best possible institutions in Germany.
Perks of studying masters in Germany
Chance to explore all aspects of life in Germany
Student life in Germany thrives on adrenaline and curiosity. German people are friendly but give you privacy; mutual respect and order are part of the daily routine; and cultural diversity is worth exploring in every inch of the country, as it makes you feel part of one entity rather than a total stranger.
Outdoor activities are pretty popular in Germany, including sports, hiking, cycling, skiing, and more – so students who consider themselves athletic are going to fit in just fine. As most international students choose to live in metropolises, they'll find lots of activities to fill their spare time; hanging out in bars, clubbing, theater, and cinema are all part of student life in Germany. Most of the great German cities are artsy and have a vivid underground music scene, full of hipster fashion, books, and ideals which all make for an enlightening and interesting experience.
If you get tired of the frenzy, you'll find that Germans are for the most part more private people, who prefer smaller gatherings behind closed doors, enjoying their food and beverages in a more intimate atmosphere. Once you have a chance to join local friendship groups, you will start learning about "real" life in Germany.
Germans are by all means green. Parks and green spaces are part of every neighborhood and remain the ideal space to calm the mind. Traveling in and out of the country promises surreal landscapes, great architecture, and loads of historical data to be revealed.
Another true advantage to life in Germany is excellent public transport, which is efficient, safe, and fast. As an additional perk of studying in Germany, you get a travel card for free by paying enrollment and administrative taxes that are ridiculously low.
No Tuition Fee at German Public Universities
Higher education in Germany is mainly funded by the state and as such it is literally free of charge for domestic and international students alike. The German higher education system consists of around 400 institutions, divided into public "tuition free" institutions that host over 2.4 million students across Germany, and a smaller number of private institutions that enroll less than 5% of the total student body.
In the past decade, Germany has been politically struggling to ban tuition fees throughout the whole country; yet as a decentralized federal country it was difficult to bring all 16 of the federations to agree. In October 2014, consensus was reached and Germany is now offering access to free higher education to all students, regardless of their origin.
Exceent Higher Education Staff Members and Infrastructure
Higher education in Germany consists of three different types of institutions:
Universities
Universities of Applied Sciences
Technical, Art, Film and Music Colleges
Most public universities in Germany date from the Middle Ages, barring a significant tradition of qualitative education and prominent names in various academic disciplines. Other institutions were either founded after the Second World War or fairly recently, including most of the private universities in Germany.
Universities in Germany are known to excel in both infrastructure and curricula. Optimal facilities providing contemporary technology, and a diversified professional staff that contributes to compounding an enlightening curriculum, ensure promising future generations of experts regardless of the discipline. Innovation, international cooperation and practice-oriented studies are considered to be the revolutionary roads to a world-class education.Higher education in Germany consists of three different types of institutions:
Universities
Universities of Applied Sciences
Technical, Art, Film and Music Colleges
Most public universities in Germany date from the Middle Ages, barring a significant tradition of qualitative education and prominent names in various academic disciplines. Other institutions were either founded after the Second World War or fairly recently, including most of the private universities in Germany.
Universities in Germany are known to excel in both infrastructure and curricula. Optimal facilities providing contemporary technology, and a diversified professional staff that contributes to compounding an enlightening curriculum, ensure promising future generations of experts regardless of the discipline. Innovation, international cooperation and practice-oriented studies are considered to be the revolutionary roads to a world-class education.
Internatinally recognized degrees
Universities in Germany now all operate under the Bologna reform, which ensures all students get a unified and internationally recognized degree such as bachelor's, masters or PhD.
BA/BSc equals 6 semesters of study
MA/MSc equals to 2-4 semesters, depending on the program
PhD equals 4-6 semesters, depending on the program
This applies to most academic disciplines, except for medicine, law and pharmacy. In these subjects students are still educated in the traditional way; a state exam is conducted at the end of studies, and the course lasts a few more semesters than an ordinary bachelor's degree.
Study Programs taught in English
Studying masters in Germany not only comes for free, but you can also do it in English if your German language skills are not so good. English is an international and widely spoken language, taught as a second language in the majority of schools around the world. A fresh start in a new country, a new university AND a new language can be tougher than you think; therefore you might want to go easy on yourself and take up an international program taught in English while your German language skills advance, and then perhaps switch to studying in Germany.
Great job opportunities
Regardless of the free tuition fee policy, studying masters in Germany doesn't come entirely for free – you still need to meet the living costs. Therefore, many international students tend to look for a job to support themselves while studying. It is very easy for EU students to find a job, as there are no limitations whatsoever. Meanwhile students from non-EU countries have to apply for a work permit, and their working hours are limited to 190 full days or 240 half days per year.
Students from countries outside of the EU, EEA or Switzerland are not permitted to work freelance or self-employed. However, this has seldom been an issue since Germany is a very well-developed country where the economy supports thousands of new jobs every day, giving the majority of international students the possibility of finding a decent job.
It's worth mentioning that practice-oriented universities in Germany have agreements with great companies, providing students with internships. These may not always be paid, but could lead to a great future job after obtaining your degree.
Studying in Germany after completing your studies
Finally, after studying in Germany, you'll have the chance to stay on and seek work after you graduate. The law allows international graduates to stay for an additional 18 months to seek work, and you may even end up staying longer, if that is what you wish.
DIversity
The range of courses offered at German universities is immense and gives you the opportunity to choose whatever area of study you want to focus on. A huge array of international programmes and inter-disciplinary degree programmes allows you to specialize.
Discover the beauty and diversity Germany has to offer! When you take time off from your studies, there are 1001 ways of finding out more about your host country. For example, you can go to a museum, a cinema or a theatre, you can sit in a beer garden, you can go for a walk on a beach, you can swim in a lake, climb a mountain or visit an old castle.
Geared to practise
German cities such as Munich, Berlin, Hamburg are consistently ranked among the most liveable cities in the world. Big cities in Germany are also, in general, safer than those in the USA. Since Germany is located in the heart of Europe, it is easy to travel to a lot of other European countries, such as Austria, France or Belgium.
Bases on OECD statistics, Germany also ranks above the average in education and skills, work-life balance, jobs and earnings, environmental quality, social connections, personal security and well-being.
So what are you waiting for? Start searching for Engineering degrees and prepare for a successful career in the Engineering and Technology field.
Potential Unlocked
In Germany, you can make the most of yourself. Here you can develop your intellectual abilities and personal skills freely and reach your full potential. If you are out to achieve great things, you will find determination, motivation and commitment open many doors – both during your studies and after your studies.
Safe Country
In comparison with other countries, Germany is a safe country. In town or in the countryside, by day or by night, you can move around freely here. Germany offers economic and political stability, which makes it an ideal place for you to study.
8 steps to apply for a Masters in Germany
Find a suitable University Program
When deciding to study for a masters in Germany you need first to identify your future academic and career goals if you haven't already. Then you need to process with the selection of the university and masters course which will perfectly match those desires. At this point, you have countless options available and regardless of your studying preferences, you will certainly find something attractive.
Since there is such a large number of universities and masters course programs available you must do a little research before choosing one. Start by taking into consideration some important traits for you, like study modules, the location of the university, tuition fees, practical sessions, etc
Based on these assumptions, it will be easy for you to come up with a list of universities and programs that would probably fit your desires. From there you can narrow down your focus at just a few of them and finally decide which one you're taking.
Check the requirements
Now that you have set your target it's time to know what you need in order to get there. Said otherwise, you must check the requirements for the course of your choice. Normally, German universities offer access to this information from their official websites.
Be careful because there are different entry requirements applied within the same university and you must be one hundred percent sure you're reading the genuine section. Recalling that every minor error at this stage may lead to a failed application, it's recommended you reach the university by mail for every single issue you have regarding this stage of application.
Language Proficiency
German universities admit students who have a strong knowledge, either in the English language or in the German language to communicate and understand what is taught in classes. In contrast to undergraduate courses, at the master level, there are many courses taught in the English language either partially or completely. To prove your language proficiency you must undertake a language standardized test prior to your application.
The level of language proficiency required to apply for a Masters in Germany varies depending on your chosen university, chosen course, and the exam you have taken. If you want to study social sciences you must have a perfect knowledge of the language at which the course is taught. On the other hand, in natural sciences, you will have to do more with lab sessions and math tasks where the need for a higher level of language is not high.
Submit your application
After you have collected all the required documents and you have checked multiple times if there's everything included it's time to submit your application for the masters in Germany(Master's degree). You can apply for a masters in Germany(Master's degree) via the Internet by using the means of an online application platform.
Most German universities use a mutual platform known as UniAssist.de. There you can create a personal account, choose your favorite master's course and upload scanned application documents. Notice that some universities run their own online application platform and only receive applications being submitted to it. You can gain access to this information on the university's website.
Wait for Admission Letter
Now it is time for you to take a deep breath and let the university completes its part of the job. Meanwhile, you can use this time to tackle other upcoming issues which are explained in the sections below.
Universities in Germany collect a large number of applications and going through each of them takes time. Normally, the processing of your application takes several weeks. In some occasions their response may take more time than it probably should because there may be issues related to your documents or because of their heavily loaded agenda and your application doesn't include everything. Fortunately, students cannot keep track of their application processing as the universities don't give that information.
Get Health Insurance
Everyone living in Germany is obligated to be health insured, including here foreign students, regardless of their citizenship. EU students may not be required to get health insurance in Germany if they're entitled to the European health insurance system, but it's not a fundamental principle, hence they need to ask whatsoever.
If you're an EU student, you must contact responsible authorities to see if your EHIC card covers you in Germany and you're allowed to apply for a masters in Germany. On the other hand, if you're a non-EU student, you must get health insurance regardless.
We suggest you prepare for this stage long before your university confirms your place in the master course. Collect information about the procedures of getting a health insurance and arrange all documents so you save the much-needed time in the process of the application for a masters degree course in Germany.
Get your Finances in order
Based on the German government's estimations, a foreign student studying in Germany needs to have in his bank account at least €853 per month or €10,236 as proof of financial resources per year to cover himself while in Germany. If you don't possess this amount of money you won't be permitted to get a student visa and study for a masters in Germany (Master's Degree).
Taking into account that this amount of money is high for a normal student it's important you start dealing with the issue long before the application call is officially opened at your favorite German university. Overall, 4 months would account to a fair amount of time to save or collect money and look what other alternative options like scholarships and student loans you got.
Get your Student Visa
The final step to a successful application for a masters in Germany(Master's degree). As a non-EU and non-EEA international student, you have to get a visa in order to be allowed to study in Germany.
Important Tip: To Highly Increase Your Chances of Getting Your Student Visa You Should Use a Blocked Account as Proof of Financial Resources.
A blocked account is a special type of bank account for international students in Germany, to prove you have enough funds to live in Germany for one year during your studies.
As of 2020, it is estimated that a foreign student in Germany will spend an average of €853 euros per month at a minimum. So, you need to have €10,236 in your bank account before applying for a German student visa.
Click here to learn more about the German Blocked Account
After you have completed all the steps above, you must reach the German embassy in your home country to collect information and initiate procedures for getting a student visa. Note that required financial means are among the requirements for student visa application so make sure you have solved that issue before the time for seeking a student visa it comes.
Timing is also important at this stage because the time required for processing your student visa application may exceed the enrollment deadline and the commencing of your master course.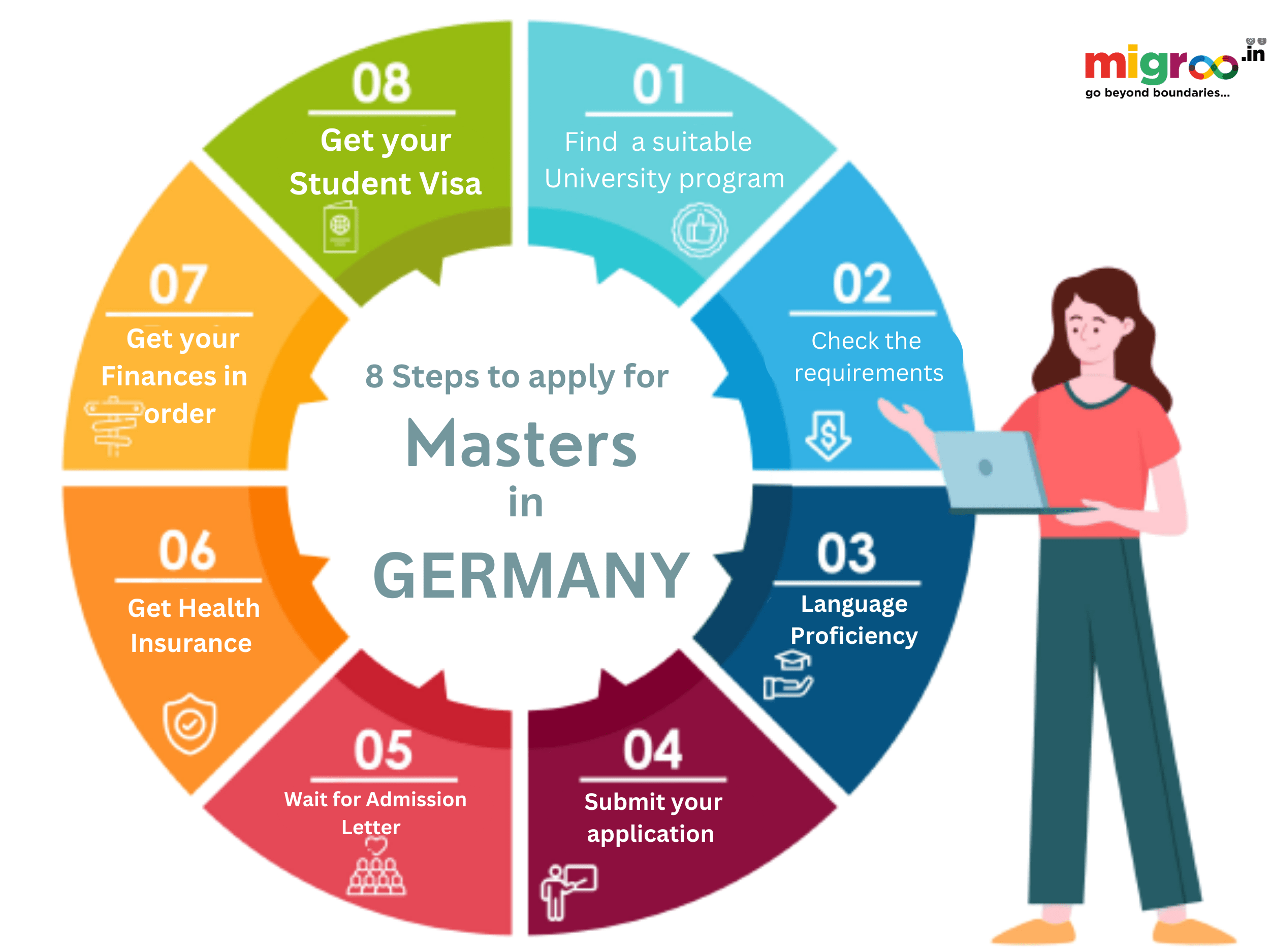 Why Study in Germany?
Eighteen months of PSW after course completion.

Getting PR in Germany is one of the quickest processes.

Part-time opportunities while studying- 124 or 240 half days a year.

Germany is home to BMW, Bayer, Siemens, and SAP.

Low living costs as compared to the UK, Australia, Canada, or the USA.

Offers the best Healthcare and social systems in the world.

Germany is the fourth largest economy in the globe.
Admission Requirements to pursue Masters in Germany
German universities only accept bachelor's degrees or all other countries to apply for a Masters in Germany.

Students must convert and scan the necessary documents in PDF or JPG format.

All these documents are required to be uploaded online.

UniAssist is an internet platform to assemble applications that students will apply for the masters in Germany.

Many universities in Germany run a private online application mode.

After submitting all the essential documents, the candidate receives an email for confirmation.

It demonstrates that the application has entered the selection procedure.

German University responds to the candidate within a few weeks after submission.

Apply for the masters in Germany within the deadline, as delayed applications are not accepted.




Students must have an English or German language certificate.
Process Management for Masters in Germany
There are great opportunities for anyone wishing to pursue postgraduate studies or masters in Germany 'the land of ideas'. To international students, it offers the chance to contribute to the country's historic academic records. The benefits of the most generous tuition fees make it ideal, as they are lower than in a lot of countries worldwide!
Germany's higher education system is split between:
Public Universities: Administered by the state
Private Universities: Set up by independent companies, organizations, or charities
The MAIN difference relies on their FUNDING METHODS.
Private universities usually charge more than public universities. Although, if the subject you are going for is not to be found in public universities, then private universities are especially useful for such courses.
Still, a very small percentage of the population and international students attend private universities, as the public ones cover a very wide variety of courses! Masters in Germany provides students with quality education and hands-on experiences during their academics.
TU9 is an Alliance of the 9 German Universities of Technology, leading technical universities in Germany. The motive of this organization is to act as the contact for society, economy and politics, particularly for the university education of engineers. The institutions of TU9 mutually accredit their bachelor's and masters in Germany. The TU9 universities in Germany have already been a platform for intellectual and cultural variation. University in TU9 is the essence of the German science and innovation attribute. These institutions not only have a Stellar reputation, but they also build a world-class network with business partners both inside and outside of Germany. The TU9 German universities of Technology are all public, having over 20% international students and over 1200 courses.
What do TU9 Universities offer?
Acts as a valued partner in research, policy-making and handling business.

Work from basic to applied research in various collaborations, including cross-disciplinary boundaries.

Promoting German engineering, I world wild and attracted the most intelligent mind.

Provide innovative teaching methods and learning formats that help to train excellent young Minds for a crucial role in Science, Business and community.

Offer innovative research in engineering and the natural Sciences.

Boost strategic alliances with top International institutions.

These universities in Germany act as regional economic powerhouses and national innovation drivers.
Germany is famous for many things, from Old castle schools for the automobile industry to the effective Railway system. One of the best qualities about Germany is its excellent higher education system. Public universities form the majority of the German higher education system.
Here is the list of TU9 universities that offer Masters in Germany.
Aachen Technical University (RWTH Aachen) is a public university in Nordrhein-Westfalen, Germany, founded in 1870. It is globally renowned in several engineering and technology field

primarily mechanical, electrical, industrial, Computer science, physics and chemistry offering master degree courses in Germany. The University has the highest research budget and industry-related faculty revenue among all German universities.
This University will have a higher rank if we look at it subjectively. For example, mechanical engineering is ranked first in Germany and 19th in the world. Unfortunately, it is not possible to study English for a masters degree, but in higher courses, it is possible in most fields.
Master courses covered by RWTH Aachen University
Mathematics, Computer Sciences, and Natural Sciences.

Architecture

civil engineering

mechanical engineering

Medicine

business and economics

art and humanity

electrical engineering and information technology

Geo resources and materials engineering
Technische Universitat of Berlin
The Technical University of Berlin, also known as TU Berlin, is a research University located in Berlin, Germany. This German University was founded in 1879. It is known for its highly ranked engineering master degree programs in computer science, mechanical engineering, economics, and Management. The university alums and professor lists many National Medal of Science Laureate and Nobel Prize winners. It has one of the highest rates of international students enrolled. It is the first TU to offer a degree in Industrial Engineering and Management.
Master courses covered by the Technical University of Berlin
Humanities

mathematics and natural Sciences

process Sciences

electrical engineering and computer science

mechanical engineering and transport system

planning- building- environment

economics and Management
University of Braunschweig- Institute of Technology
The University of Braunschweig is the oldest Technical University in Germany. Founded in 1745 as Collegium Carolinum and later transformed into polytechnische Schule, Technische Hochschule and now Technische Universitat Since 1968. The University has a faculty named after one of its notable alumni- mathematician Carl Friedrich Gauss who studied in Collegium Carolinum before entering the University of Göttingen. The technical University in Braunschweig has a massive offer of different master degree courses. With the Germany study abroad consultants, you can make a first impression and browse the offer on the University's website. It has around 20,000, approximately 3,000 international students.
Master courses covered by the University of Braunschweig
Life sciences

architecture, civil engineering and environmental Sciences.

mechanical engineering

electrical engineering, information technology, physics

Humanities and Educational Sciences

Aeronautics

mathematics, Informatics, Business Administration and Social Science.
Karlsruhe Institute of Technology
Founded in 1925 as Polytechnic School, it is now the largest Research and education institute in Germany and was the first German University to found a Faculty of computer science. Many alums are also known as inventors and entrepreneurs, such as Heinrich Hertz and Karl Friedrich Benz. It was awarded as one of the elite universities in 2006 and 2019. It includes 1100 faculties. This University offers around 16 courses in English including master degree. It has over 25000 students, with approximately 20% international students.
Master courses covered by the Karlsruhe University of Technology
Architecture and landscape Sciences

Civil Engineering and geodetic Science

economics and Management

electrical engineering and computer science

Humanities

Law

mathematics and physics

mechanical engineering

natural Sciences
Technical University of Darmstadt
The historic building was built in 1893- 1895 and is home to one of Germans leading Technical universities. Since its foundation in 1877, the TU Darmstadt has been distinguished by its unique pioneering spirit, emphasized by its outstanding achievement in research, teaching and transfer. TU Darmstadt welcomes researchers from all over the world,offering master degree courses and supporting them with questions about housing, organization and administration, and provides practical help with non-specific questions.
This German University is a Treasure house of achievement and innovative power. The University has five locations including 161 buildings and over 300000 square meters of space. Not many universities can boast their field, but since 2005, the University has been the owner of Germany's oldest airstrip named after aviation Pioneer August Euler. It is the founder of
IT-Cluster-Rhine-Main-Neckar. And as it is one of the best universities providing master degree courses in computer science. It is also the operator of ATHENE, the largest Research Institute of cyber security in Europe.
Master courses covered by the Technical University of Darmstadt
Architecture

civil engineering and Environmental Sciences

Biology

Chemistry

computational engineering

electrical engineering and information technology

human Sciences

history and Social Sciences

computer science

mechanical engineering

Materials and earth sciences

Mathematics

Physics

law and economics

energy science and engineering
Technische Universität Dresden
Founded in 1828 as Saxon Technical school to train skilled workers and Technical fields such as mechanics, mechanical engineering, and ship construction offering masters in Germany. TU Dresden has a robust micro/nanotechnology research department. TU's main campus is located in Dresden City Center. The University has under 32000 students, with international students making up around an eighth of these. One of Germany's leading Technology schools, the University ranks 128 in the faculty-student ratio and employer reputation indicators. As a modern comprehensive multidisciplinary University with 14 facilities, it has a broad and diverse scientific spectrum that only a few other universities in Germany can match.
Master courses covered by the Technische Universitat Dresden
Architecture

Computer science

Education

Civil engineering

Electrical and Computer Engineering

Law

Environmental Sciences

Business and economics

Literature, linguistic and cultural studies

Mechanical Science and Engineering

Science

Transportation and traffic science

Biotechnology and applied ecology
The University of Stuttgart is a leading research university in Stuttgart, Germany. It was founded in 1829 and is designed into 10 faculties. This University is one of the oldest technical universities in Germany, with highly ranked master degree programs in civil, mechanical, industrial and electrical engineering, among others. It is the home to Mercedes Benz and Porsche. It is well known for automotive engineering, industrial and automated manufacturing, and process engineering. some famous Alumni of Uni Stuttgart: Gottlieb Daimler, Wilhelm Maybach.
Master courses covered by the Universitat Stuttgart
Architecture and urban planning

Civil and environmental engineering

Mathematics and physics




Humanities

management, economic and social Science

Aerospace engineering and geodesy

energy Technology, process engineering and biological engineering

engineering design, production engineering and automotive engineering

computer science, electrical engineering
Leibniz Universitat Hannover
This University has a population of around 28000, of which 3000 are international students. It has 9 security offering more than one 91st degree full-time and part-time master degree courses. It is the biggest sponsor of the German National Library of Science and Technology, the world's most extensive library of Science and Technology.
Master courses covered by Leibniz Universität Hannover
Humanities and Social Science

Engineering and Technology

natural Sciences and mathematics

law and economics

linguistics and literature
Technische Universitat Munchen
The Technical University of Munich is one of Europe's premier research universities offering Masters in Germany. Several Nobel laureates and inventors, such as Rudolf Diesel and Carl von Linde, have researched here. The international ranking is regularly placed among the best German universities. The Technical University of Munich offering masters in Germany was known as a University of Excellence in the year 2006 and 2012. It offers 178-degree programs and has campuses in Munich, Garching, Weihenstephan, Straubing, and Heilbronn. It costs around 1000 Euro/ month, which includes rent, food, transport, health insurance and other personal needs.
Master courses covered by the Technische Universitat Munchen
Chemistry

Physics

Medicine

sports and health science

Mathematics