AUSTRALIA – A Nation – Indians Love to study
Indian students ranked the study in Australia as the third most preferred destination which is evident by seeing the growth in the applications over the last few years from India. The reason behind such a fynominal growth is the world class education system with multicultural environment and providing of post study work opportunities to international students.
According to the Australian Department of Home Affairs, there is 32 % growth over the last year 2020-21  in terms of granting student visas to indian students which is over 37000. For study in Australia, the maximum number of indian students enrolled in the most preferred universities are in and around Sydney and Melbourne followed by Adelaide, Brisbane, Perth, Canberra and more.
With more than 1200 institutions and over 22000 courses for international students, study in Australia offers a diverse range of study options. All levels of education is available for students from primary school to secondary, to vocational education & training, bachelors to masters and research degrees. Australia's laws promote protection for international students and quality education irrespective of what a student is studying or how much is the duration of study. Needless to say, Australian cities are the most livable and student friendly cities in the world and are consistently ranked high.
Popular courses among Indian students for Study  in Australia
Study in Australia – Vast course options
The courses are spanned into diverse study areas as offered by the Australian institutions which includes technology, business, sciences and arts etc. as well as professional courses. Study in Australia has everything you need whether its undergraduate course with dual specialisation or double masters. Australia has 39 Universities which includes very high ranking Go8 Universities out of which mostly are public. These Universities are located across the states of New South Wales, states of Victoria, Queensland, South Australia, Northern Territory, Western Australia, Tasmania and Australian Capital Territory.
In fact, the 2020 survey of 'Top Universities' includes The University of Sydney, The University of Queensland, The Australian National University, The University of New South Wales, The University of Melbourne, The University of Adelaide, Monash University and The University of Western Australia included in the list of world's top 150 Universities (QS & THE world rankings)
The most common intake for study in Australia are February and July. A third trimester (October – November) are also offered by a few universities. Usually, it takes around  6 to 7 months to complete the study in Australia process of application, offer letters and visa completion. The English language proficiency test (IELTS etc) is an admission requirement so its advisable to complete this test in advance. The students past qualification scores and work experience are basis of eligibility criteria in study in Australia. At the time of visa application, financial capacity along with statement of purpose are required. While study in Australia, health cover is a must for every overseas student which insures the students medically and is also a part of the total fees.

Food: During study in Australia, there is availability of a variety of national and international cuisines which suits every budget and craving. There is plenty of choices of vegetarian food for indian students. Every time you get homesick, visit indian restaurants where home liked cooked food and indian cuisines are available.
Campus life: The campus life in Australian universities is exiting. The beautiful landscaping and state-of-the-art buildings are there. Music, dance, clubs, sports and other facilities are also present.
Australians and other migrants: Australians are independent and believe in gender equality and are one of the friendliest people in the world. They love sports and have a terrific sense of humour. People from different countries like China, Malaysia, New Zealand and Philippines etc are also there.
Employment opportunities: For international students, after successful completion of two years of full-time study in Australia and completion of course work / research degrees, Australia offers 2 years of post-study work permit. For international students who are graduating from Australian Universities, the employability ratio is very high.
The study in Australia programs offered by the universities have professional accreditations and work integrated learning and the qualifications are accepted world-wide which enables the graduates more employable.To support the international students, Australian universities have dedicated divisions for helping students in interview, CV preparation and placements.
Cost of living: Accommodation are provided on-campus and off-campus during study in Australia. Due to efficient transportation system, commuting becomes quite smooth so off-campus accommodation are very popular among indian students.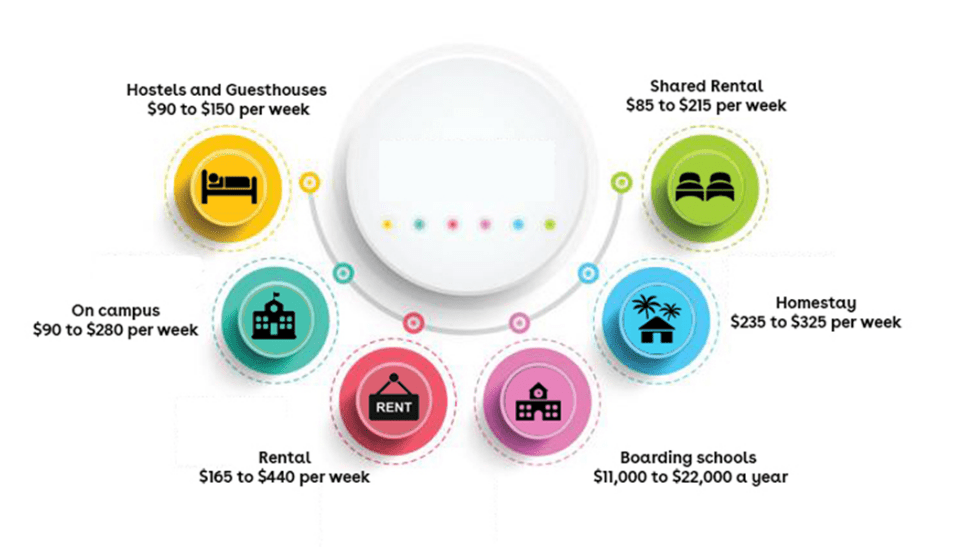 Study in Australia – Eligibility Criteria
The requirement of study in Australia is specific and should be carefully noted which are as follows:-
Atleast 60% marks required in 12th class examination to get admission in diploma-level courses
Atleast 65% marks required in 12th class examination to get admission in bachelor's courses
For entry into postgraduate programs, 3 years graduation degree is recognized by all universities in Australia.
Some courses of some universities require qualification which are equivalent to Australian Bachelor (Hons) degrees. For example, degrees like B.E., B.Tech, B.Com (H), BA (Hons.) and other such 4 years degree courses.
Academic requirements to study in Australia
Your attention is needed for specific academic requirements amongst the requirement of study in Australia. Educational details about the subjects of the course and grade obtained are to be provided. Post-secondary school, the official transcripts of every college or university the students attended, have to be furnished before applying for admission. In addition to this, details of credits, other subjects and all other information like correspondence courses or diplomas is also to be submitted. Further, the attested copies of the following also to be submitted:
Mark Sheet of 10th Class
Mark Sheet of 12th Class
Provisional certificate or graduation degree with score card
The transcript and other documents should be translated in english with certified original copies (certified by an individual / agency recognized by the Government of the country or the law).
12 to 15 months prior to the proposed admission date, inquiries on the application should be intimated for study in Australia. Through the following methods, you can get the forms:
Through email – From the university's website, as aspirant can request the application form
Downloads – Downloadable versions of the application forms are available on the websites of the most of the universities For study in Australia which can be printed out too and may be use as regular application form.
University Representatives – The authorized representative of Australian Universities can also provide the forms in their home country for study in Australia.
Requirements for your application for study in Australia
The following requirements have to be met:
The report or certificate along with transcripts of higher or senior secondary (mark-sheets or report cards) of final examinations. The marks should be convert in sync with the grading system in Australia.
If applying for MBA courses, the scorecard should be given of GMAT and IELTS examination. For study in Australia, the scores of these examination may vary from one institution to another.
You may have to submit the work experience letters and certificates if applying for MBA or higher education degrees like doctoral programs. These letters must mention the major work and responsibilities, full work information alongwith the designation/position held in the past. Also, a detailed resume is required.
You have to present SOP (Statement of Purpose) or personal essays wherein you have to mention your career goals, interest, extracurricular activities. Also to mention why you have choosen a particular stream and how you will manage the financial expenses during the stay in the country.
An individual, who had taught the student and knows him/her professionally, issued the LOR (Letter of Recommendation). That individual has to state the strength and weaknesses of student and also mention the reason why/how the student will do well in the selected field. Normally, 2 LORs are required for study in Australia.
Eligibility Criteria to Study in Australian University:  
For international students to pursue higher studies, Australia has increasingly becoming a popular destination. Here, for study in Australia, we will talk about the requirements to pursue various courses either it is undergraduate or postgraduate studies.
Let us start with the requirements for UG programs for study in Australia:
The students have to meet the requirement which basically indicate the eligibility criteria of the Australian Universities.  It is important to note that if the aspiring student fails to fullfill the basic requirements then not only the application will be rejected but the student will not get back the monetary expenses incurred by him/her during the process of application. So, it is very important to understand the eligibility criteria for study in Australia. In this regard, following are the factors to be considered:
First, the applying student must complete the 10+2 from a recognized education board and is of 17 years of age.
A candidate must meet the minimum score cut-off to be considered for admission as set by the most universities. The minimum cut-off from a recognized board of education is 60 %.
A solid Statement of Purpose (SOP) and Letters of Recommendation are must for an aspiring candidate.
In addition to above, certificate of IELTS/TOEFL to prove proficiency in English language is required. In some cases, GMAT is also required for some courses.
Past work experience, if applicable, is also a necessary requirement.
For PG programs, the eligibility requirements for study in Australia are as follows:
First requirement is completion of a minimum 3 years graduate course from a recognized board of education
As mentioned in UG course requirement, proficiency requirement is same for english language. Some universities also require tests like GMAT and GRE for PG programs
The scorecards of 10th, 12th and graduate courses alongwith letters of recommendation are must to complete the admission application for study in Australia.
English Proficiency requirements for bachelor's degrees
To pursue bachelor's degree for study in Australia, for aspiring candidates, the requirement of English language proficiency varies from university to university. Australian Universities accept the following english language tests:
International English Language Testing System (IELTS)
Test of English as a Foreign Language – TOEFL internet-based test (paper-based test is accepted from limited countries)
Cambridge English: Advanced (CAE)
Pearson Test of English (PTE) Academic
Occupational English Test (OET)
Now, in these english language tests, the minimum requirements in terms of scores are as follows:
IELTS – A minimum score of 6.0 – 6.5
TOEFL – A minimum score of 60 – 90
CAE – A minimum score of 169 – 176 while scoring a minimum of 169 in every section
PTE – A minimum score of 50-64
These mandatory english language proficiency test scores may be exempted for  International students in some cases and the relevant categories which falls into this for study in Australia are as follows:
If the candidates completed a course of duration of minimum of 5 years from a university of Australia, Canada, Republic of Ireland, New Zealand or South Africa
Citizens or passport holders of USA, Canada, Republic of Ireland, UK or New Zealand
Pursued higher or senior secondary education from Australia
Candidates from Defense endorses or Foreign Affairs
How much money do you need to study in Australia?
For study in Australia, funds require for everyday expenses and university fees which depends on the programs and university you choose. The average cost is as follows:
–  Average cost for a Secondary Education – AUD 7,500 to 30,000 / year
–  Average cost for Undergraduate courses – AUD 15,000 to 35,000 / year
–  Average cost for Postgraduate courses – AUD 20,000 to 40,000 /year
–  Average cost for Doctoral courses- AUD 14,000 to 40,000 / year
–  Average cost for MBA – AUD 15,000 to 20,000 / year
Now, the average living costs are as follows:
Groceries – AUD 80 to 250 / week
Electric and Gas supply – AUD 35 to 140 / week
Internet and phone charges – AUD 20 to 60 / week
Public transport – AUD 15 to 55 / week