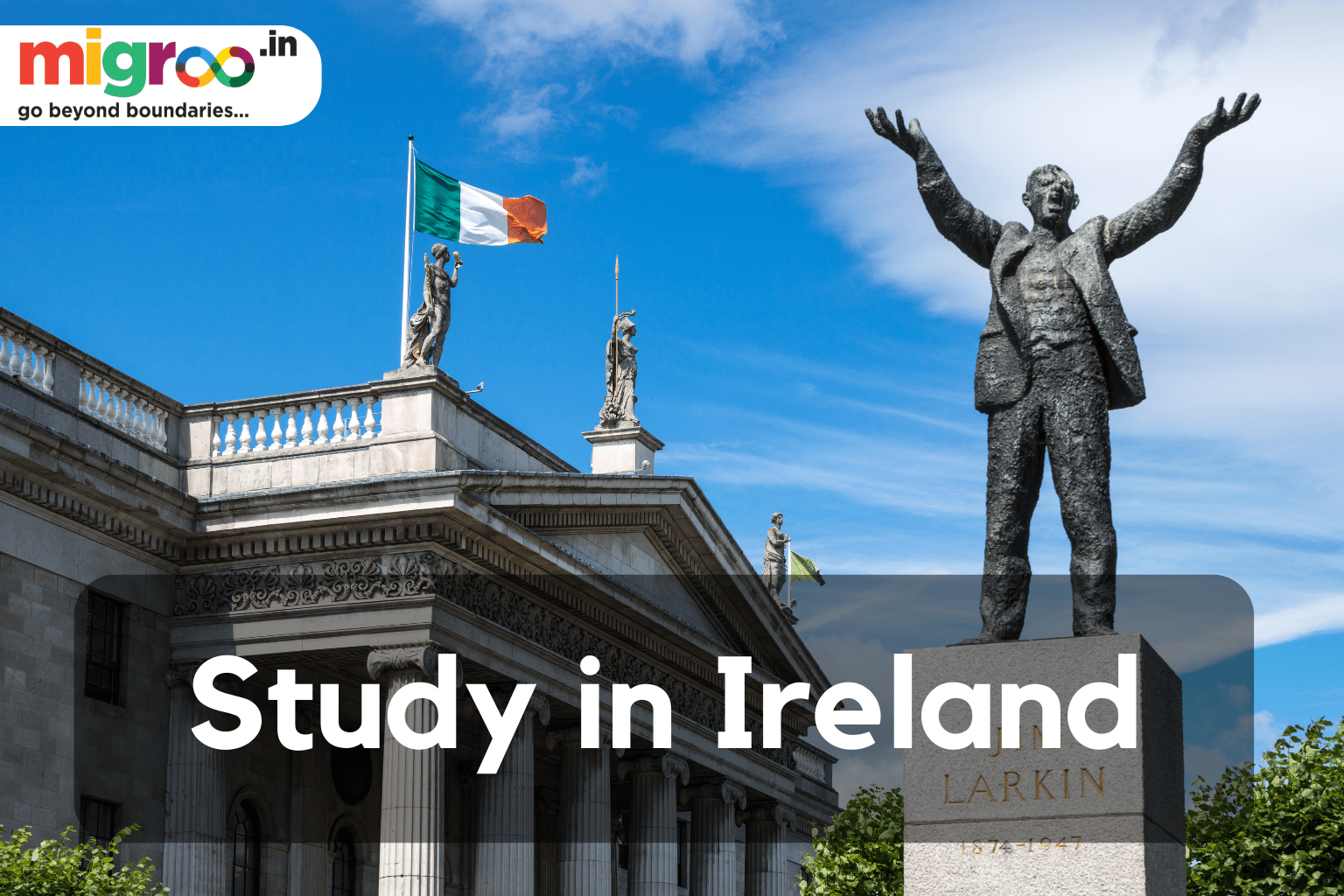 Study in Ireland for Indian Students: Colleges, Eligibility & Scholarships
The Best Consultants in Delhi for Study in Ireland
We have become known as one of the top Ireland education consultants in Delhi in a very short period. Migr8's outstanding personnel, counsellors, and international educational experts are always available for the program's accomplishments. Additionally, our team uses a very different mentoring and training strategy, which enables them to give each student their entire attention. Additionally, we have some of the best IELTS instructors that can guide you through the exam with ease. Furthermore, you receive: Feel free to contact us for study in Ireland.
Our team works around the clock to assist students in achieving their goals. Additionally, all of the students receive individualised attention from our advisers, who work with them to identify the best options based on their overall profiles.
Advantages of Study in Ireland 
Quality institutions to study in Ireland
Irish colleges flourish because they cater to overseas students, who make up one in ten full-time students in Ireland. Through the National Framework of Qualifications, the Irish government keeps an eye on the quality of education (NFF). This indicates that the quality of education is the same regardless of the institution you choose to attend to study in Ireland.
Best Research and innovation to study in Ireland
The top 1% of research institutions in the world are Irish universities and colleges, which have an effect across 19 fields, including social science, natural science, humanities, and healthcare. Undergraduate and graduate students who choose to study in Ireland have a lot of opportunity to apply to research programmes that are innovative and offer plenty of options thanks to this. Problem-solving, creativity, and inventive thinking are some of the essential elements of the Irish curriculum.
A nation of possibilities
Study in Ireland offers a wide range of choices, whether you're looking to enrol in an undergraduate or graduate programme. Many of the biggest and greatest organisations in the world really have their primary strategic research facilities here. Ireland is reported to have over 1,000 multinational businesses, including 9 of the top 10 worldwide ICT firms, 8 of the top 10 global pharmaceutical firms, 6 of the top 7 diagnostic firms, 8 of the top 10 gaming firms, and 15 of the top 20 medical device firms. Additionally, Ireland is home to 50% of the top financial services companies in the globe.
Safest Nation to Study in Ireland 
If you are planning to study in Ireland, you should know Ireland is one of the safest nations in the world, placing among the top 10 nations in both the 2018* and 2017* Global Peace Indices. You'll continue to live in a community that is constantly willing to assist and support you and have the same rights as any native Irish citizen.
Irish people are renowned for being hospitable and kind. They like talking, and they are perhaps the greatest at making you laugh. Ireland was ranked as the tenth most social nation in the world in 2017. It is a family-oriented society, and this extends to how they treat foreign students. Additionally, festivals play a big role in Irish culture, which is rich in traditions, customs, and folk music. The events and festivities around St. Patrick's Day, the Galway Oyster Festival, Puck Fair, the Fleadh Traditional Irish Music Festival, and more will astound you. You'll always feel at home if you choose to study in Ireland.
Work Opportunities while Learning to study in Ireland 
In Ireland, you can work part-time to pay for your education. You will be permitted to work 20 hours per week throughout the academic year and 40 hours per week from mid-December to mid-January. You can continue on to look for work after completing your education thanks to the Irish Third Level Graduate Scheme for graduates from outside the EU.
Building & Assessing Profile to Study in Ireland
Evaluation of profile is the foremost and essential step, that aims to understand your strengths and weaknesses and hence, creating and building a profile that top and recognized universities accept after you decide to study abroad.
At Migr8, we evaluate your profile on metrics ranging from your program eligibility, work experience to academic standing; and even extracurricular activities required to compensate for weak academic standings.
University & Country Research to Study in Ireland
You need to research what programs work best for your circumstances and also your aspirations. While aspiring to study in Ireland choosing a program and assessing the options available while keeping a check on deadlines for application dates and other events can be a humongous task for you alone. 
We at Migr8, besides acknowledging your goals and aspirations, guide you through the process, university requirements and provide you with an accurate assessment of your chances of admission to institutions that suit your needs.
Test Preparation to Study in Ireland 
While study abroad, institutions have preset academic requirements which they can assess through some standardised tests that include IELTS, TOEFL, etc. Your performance in these plays an essential role in strengthening your likelihood of getting admission in specific colleges and universities besides facilitating your chances of getting a scholarship and financial aid to study abroad.
Migr8 provides incomparable training and with our unique mentoring model we ensure every student is assisted in the required learning to seek admission to the top universities.
Shortlisting University Options to Study in Ireland 
Among thousands of options after thorough research, it is imperative to target certain universities that meet your requirements and ones you are eligible for as well. From assessing the university ranking to narrowing down your ideal course and program options, Migr8 assists you at every step of the way.
While aspiring to study in Ireland, we at Migr8 ensure that we target the right universities for you to maximise your chances of acceptance while aligning the education quality, living standards and finances to your needs and ambitions.
Profile Preparation to Study in Ireland 
A significant part of your college applications is formed by essays, Statements of Purpose, and letter of recommendation for you to be able to study abroad.
At Migr8, we make sure we create a profile that is beyond merely the quality of language but also comprises you as an individual and your story. Demonstrate the best of you as a person and as a student to stand out among the thousands of applicants with Migr8.
Financing Your Education to Study in Ireland 
The next step in the process requires you to show you have enough money to pay for your course. You will also be required to show you have enough money to support yourself which depends on where you'll be study in Ireland. 
At Migr8, we begin by outlining all the potential scholarships a student may be eligible for depending on his or her background and test results. Mentors at Migr8 assist the students with the application process, including the documents, essays, etc., after the scholarships have been discovered for you to study in Ireland.
Departure Preparation to Study in Ireland
You're off on a major journey. Counsellor at Migr8 will offer guidance along the process on issues like converting money, insurance, SIM cards, and creating a bank account. There are many things to consider during this period.
To assist you to get ready for studying abroad in your new country, we often organise pre-departure events.
Popular Ireland Universities for Indian Students to Study in Ireland
Some of the popular universities to study in Ireland are given as follows
Ireland Student Visa for Indian Students
Ireland will guarantee you an all-encompassing experience that goes beyond your academics because it is a hub for technology and many major firms have their European headquarters here. All Indian students have the chance to study in Ireland thanks to the Irish government, but you must first apply for a student visa. Your age and the kind of education you intend to pursue in Ireland will determine the sort of visa you require. The many categories of study visas and the criteria for applying for each are described below:
Ireland Student Visa Requirements for Indian Students 
Academic qualifications and credentials prove that you meet the requirements for the chosen course and the university to study in Ireland.

Two colour photos the size of a passport (should not be more than six months old)

A copy of your current passport and any previous passports (if any)

Your acceptance into the chosen programme at the college or university is announced in an acceptance letter from the institution.

For consideration, Indian students must be at least 18 years old.

Scorecard of IELTS, TOEFL, or any other English Proficiency Test accepted to study in Ireland.

Receipt for the admission fee or any other documentation proving full payment of the program's cost.

Evidence that you have the funds to continue your studies in Ireland.

When requesting an Ireland Student Visa, Private Medical Insurance is also required.

Proof of finances (€7,000) to cover your living expenses throughout your course

Evidence explaining any gaps in your educational background (if any)

Details of medical insurance

As part of the application procedure, you can also be required to submit biometric data.

A declaration of your intent to study in Ireland and depart once your visa expires

Application summary sheets and evidence of your return to your home country must be attested documents for the "C" visa.

Evidence of your academic readiness for the course you've chosen

Additionally, you might need to show up for a face-to-face interview at the Irish embassy or consulate.
Eligibility Criteria for Ireland Student Visa
Indian students need to be 18 years or older.

Students from non-EEA countries who have a Stamp 2 visa are allowed to work part-time. During the academic year, they are permitted to work a maximum of 20 hours a week, and during the summer, a maximum of 40 hours.

Since the GNIB still considers non-EU/EEA postgraduate students to be enrolled in a full-time programme, they are not allowed to work more than 20 hours a week when on summer break from school working on their dissertations in addition to their examinations.
Popular courses to study in Ireland
Some of the courses popular among Indian students who plan to study in Ireland are:
B.Sc. Business Analytics
MSc. in Business Analytics
B.Sc. Data Science
B.Sc. Computing (Data Analytics & Big Data)
M.Sc. Data Science and Analytics
M.Sc. Data & Computational Science
B.Sc. Computer Science and Software Engineering
M.Sc. Software Engineering
M.Eng. Electronic and Computer Engineering
B.Sc. Computer Science (Hons)
B.Sc. Computer Games Development
M.Sc.Computer Science
BAFS (Hons) Actuarial and Financial Studies
B.A. Accounting and Finance
M.Sc. in Finance
M.Sc. in Investment, Treasury & Banking
B.Sc. Nursing Studies
B.Sc. Pharmacy
Master in Public Health
MBBS
Scholarships for Indian Students in Ireland
Many scholarship options are available for Indian students planning to study in Ireland to help ease the financial burden. Some of the prominent scholarships offered to Indian students to study in Ireland are as follows:
| | | |
| --- | --- | --- |
| S. No. | Name of Scholarships | Amount in EUR |
| 1 | Undergraduate Merit Scholarship | €1000 to 50% off on tuition fees |
| 2 | University College Cork Scholarships | Variable amount |
| 3 | The Naughton Scholarship | €20,000 for 4-year degree, €15,000 for 3-year degree |
| 4 | St. Vincent de Paul Scholarship | €18,596 |
| 5 | Non-EU Student Scholarships | €9950 |
| 6 | English Language Attainment Scholarships | Tuition fee waiver |
| 7 | Claddagh Scholarship Program | €1000 less on tuition fees |
| 8 | Peter Real Analog Bernal Awards | Fee waiver from University of Limerick |
| 9 | Monex Scholarship Program | €3000 |
| 10 | Education Future International Scholarship | €2395 – €11,977 |
Master's Scholarship for Indian Students in Ireland
| | | | |
| --- | --- | --- | --- |
| S. No. | Name of Scholarship | Eligibility  | Amount in EUR |
| 1 | Government of Ireland Postgraduate Scholarships | All non EU students are eligible to apply | Tuition fee waiver + €10,000 |
| 2 | Non-EU Study Abroad/Exchange Returning Master's Scholarship | Students who participated in DCU's study abroad/exchange program are eligible | €2000 |
| 3 | George J. Mitchell Scholarship Program | All students of DCU are eligible | 100% off on tuition fees +housing+airfare+living stipend |
| 4 | Naughton Fellowship | All students admitted in the university are eligible | Full tuition fee waiver+ €20,000 for living expenses |
| 5 | DCU International Merit Scholarship | All full-time students are eligible to apply | First month tuition fee waiver + €2000 |
| 6 | Anonymous Hope Fund | Students from the countries where the group functions are eligible | €5572 |
| 7 | Scholarships for Women in Leadership & Management | All students of the university are eligible to apply | 85% off on tuition fees |
| 8 | Marine Stewardship Council Scholarship Research Program | All international students are eligible | €4000 |
| 9 | WCC Scholarship Program | All students of WCC member churches are eligible | Variable amount |
| 10 | MAWISTA Scholarships | All students are eligible to apply | €6000 |
Frequently Asked Questions
What are the requirements for enrolling at a university in Ireland?
Certain requirements to study in Ireland are stated as follows:
Statement of Purpose

Letter of Recommendation

12th Marksheet with a minimum of 60%

English Proficiency Test scores (IELTS/TOEFL)

Proof of Payment of Tuition fee

Student Visa